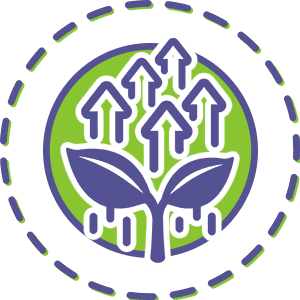 THE LAWN ACE ADVANTAGE
Reaching Your Lawn's Full Potential
Many residents choose to nurture their own lawn. Whether it's with weekly mowing, trimming, and weed pulling, the reality is that lawns need much more to promote healthy growth. We have the resources and the highly-trained staff to get the job done. More importantly, we use innovative technology, such as both liquid and core aeration, to beautify your lawn. At Lawn Ace, our No. 1 priority is making sure your lawn is the envy of the neighborhood, and our top-tier programs are designed to do just that.
Liquid Aeration
Liquid aeration is the most innovative way to restore health to your lawn's roots and soil. Lawn Ace professionals apply a liquid treatment that alleviates compaction, thatch build up, and more. This add-on service that complements our monthly programs is much more effective than traditional aeration because it helps to loosen the soil much deeper than traditional core aeration alone. How does liquid aeration work? Key bio-stimulants actually fracture the soil, allowing oxygen and nutrients to penetrate the soil and reach the lawn's roots, promoting deep root growth and a thick, beautiful lawn.
Core Aeration
This process involves using a machine to pull thousands of tiny plugs of soil directly from the ground. Pulling these plugs of soil will relieve soil compaction, allowing for the easy transfer of nutrients, air, and water throughout the soil. Because your lawn becomes compacted over time from playing, mowing, and other environmental factors, we recommend core aeration annually.
Expert Solutions for
Your Lawn Care Needs
We are the HIGHEST RATED lawn care company in the CSRA!