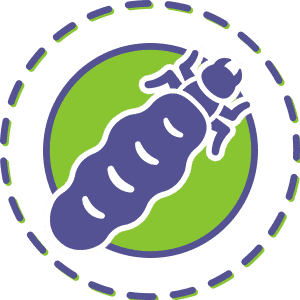 THE LAWN ACE ADVANTAGE
Don't Let Grubs Invade Your Outdoor Space
The health of your outdoor space is essential, especially when you want to enjoy the cool Georgia Breeze or soak up the South Carolina sun. However, it's no fun to be outside when your grass is turning yellow or brown and the view is not-so-stellar.
Grubs may be the culprit.
What Are Grubs?
These creatures are guilty of robbing you and your guests of the beauty they should be seeing. Ensure you maintain your lush, green lawn by opting for grub control from Lawn Ace. Grub control is included in our PRO Plan and available as an add-on service as needed in any of our other plans. Let's learn more about why it's necessary to take control of grubs before these pests impede the look of your lawn, trees, and shrubs.
You may not even know that you have grubs robbing your soil and grass roots of nutrients, but Lawn Ace professionals know just how to find them. It's important to understand why grubs are a threat to your grass. Before they mature, lawn grubs feed on the root system of your grass and can cause portions of your lawn to brown or die. Grub damage, when left unchecked, is devastating to your turf.
Once matured, lawn grubs transform into beetles, leaving the soil to breed and lay their eggs back in the soil. If the grubs are not treated and left to mature, what you'll find is that they will hatch even more grubs, exacerbating the invasion that will continue to devour your grass roots and cut off your lawn's supply of much-needed nutrients.
Targeting The Grubs With Innovative Technology
Grubs pose significant dangers to your lawns. In fact, grubs are known to cause irreparable damage to the soil and roots because they feed on the nutrients that nurture these components of your lawn. Unfortunately, grubs love the warm temperatures that are characteristic of the Georgia and South Carolina areas. We can help!
Our liquid grub control treatment targets areas where grubs are most comfortable – causing them to think twice about residing in your soil near the grass roots. We can replenish the nutrients in your lawn and ensure that grubs are gone for good when combining our grub control service with our monthly programs.
Expert Solutions for
Your Lawn Care Needs
We are the HIGHEST RATED lawn care company in the CSRA!